Wire winding machines / Linear winding machines

We sell electronically programmable wire winding machine / linear winding machines and appropriate accessories. Our machines feature simple operation, high accuracy, smooth running and high reliability and therefore belong to the top products in the range of winding technology.
The production of distribution transformers and heavy coils, as well as the production of simple to complicated multi-chamber coils, trapezoidal windings and asymmetrical windings. The production of large and heavy coils with flat wire is also possible.
Product overview wire winding machines / linear winding machines
Technical specifications

| Property | Unit | DWM 22 |
| --- | --- | --- |
| Wire diameter | mm | 0.02-1.7 |
| Pitch range | mm/R. | 0.008-40.0 |
| Winding width | mm | 0.1-210.0 |
| Max. winding diameter | mm | 180 |
| Accuracy of spindle stop | R. | 0.01 |
| Turn resolution | R. | 0.01 |
| Speed range | RPM | 12000 / 6000 / 3000 |
| Torque | Nm | 0.7 / 1.5 / 3 |
| Distance between centres | mm | 250 |
| Power supply | V/Hz | 230 / 50-60 |
| Dimensions | mm | 780 x 420 |
| Weight | kg | 85 |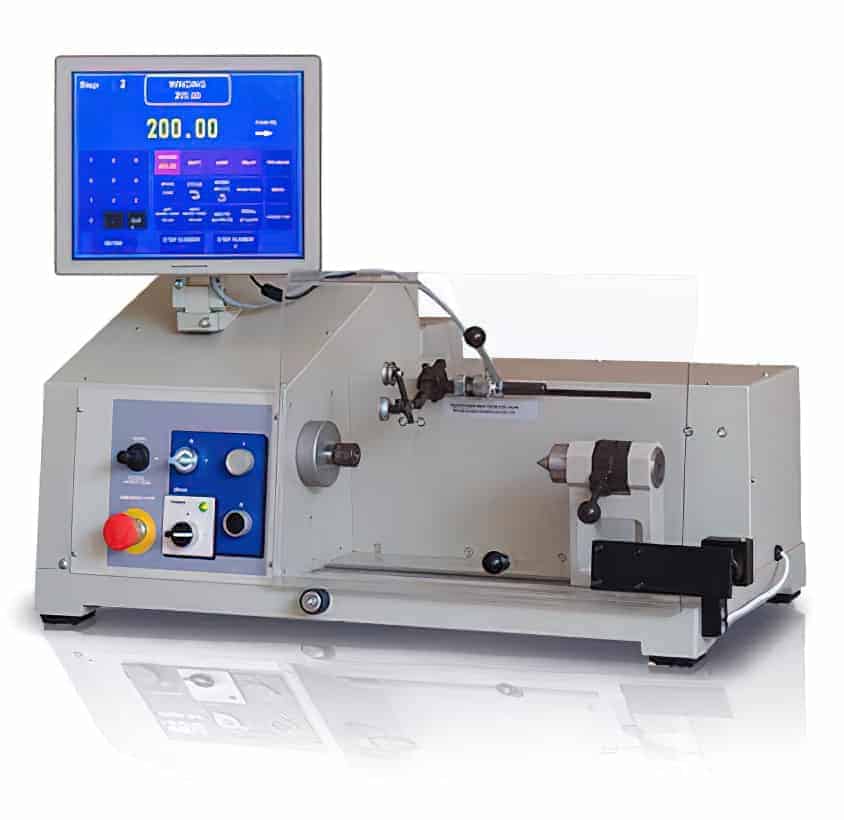 Technical specifications

| Property | Unit | DWM 32 | DWM 32S |
| --- | --- | --- | --- |
| Wire diameter | mm | 0.02-2.5 | 0.02-3.0 |
| Pitch range | mm/R. | 0.008-40.0 | 0.008-40.0 |
| Winding width | mm | 0.1-300.0 | 0.1-300.0 |
| Max. winding diameter | mm | 250 | 250 |
| Accuracy of spindle stop | R. | 0.01 | 0.01 |
| Turn resolution | R. | 0.01 | 0.01 |
| Speed range | RPM | 6000 / 1500 / 750 | 4000 / 1000 / 500 |
| Torque | Nm | 1.5 / 6 / 12 | 3 / 12 / 24 |
| Distance between centres | mm | 340 | 340 |
| Power supply | V/Hz | 230 / 50-60 | 3 x 400 / 50-60 |
| Dimensions | mm | 870 x 460 | 870 x 460 |
| Weight | kg | 120 | 120 |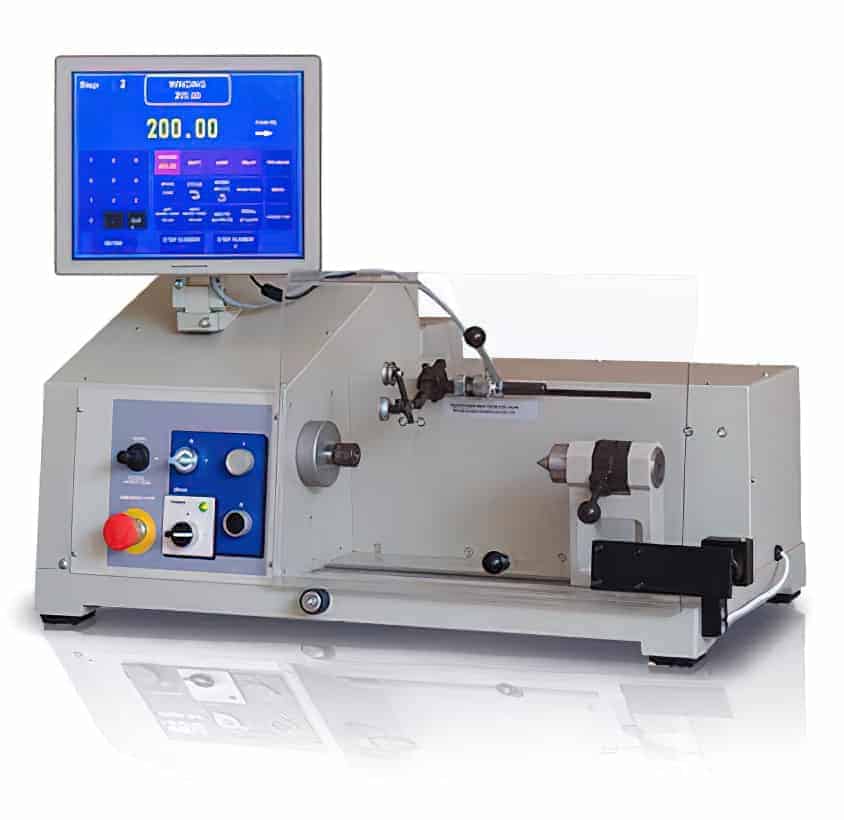 Technical specifications

| Property | Unit | DWM 42 | DWM 42S |
| --- | --- | --- | --- |
| Wire diameter | mm | 0.02-5.0 | 0.02-5.0 |
| Pitch range | mm/R. | 0.008-40.0 | 0.008-40.0 |
| Winding width | mm | 0.1-300.0 | 0.1-300.0 |
| Max. winding diameter | mm | 450 | 450 |
| Accuracy of spindle stop | R. | 0.01 | 0.01 |
| Turn resolution | R. | 0.01 | 0.01 |
| Speed range | RPM | 4000 / 1000 / 500 | 4000 / 1000 |
| Torque | Nm | 3.5 / 15 / 30 | 7 / 30 |
| Distance between centres | mm | 330 | 330 |
| Power supply | V/Hz | 3 x 400 / 50-60 | 3 x 400 / 50-60 |
| Dimensions | mm | 910 x 530 | 910 x 530 |
| Weight | kg | 140 | 140 |
Technical specifications

| Property | Unit | DWM 52 | DWM 52S |
| --- | --- | --- | --- |
| Wire diameter | mm | 0.02-5.0 | 0.02-5.0 |
| Pitch range | mm/R. | 0.008-40.0 | 0.008-40.0 |
| Winding width | mm | 0.1-450.0 | 0.1-450.0 |
| Max. winding diameter | mm | 450 | 450 |
| Accuracy of spindle stop | R. | 0.01 | 0.01 |
| Turn resolution | R. | 0.01 | 0.01 |
| Speed range | RPM | 4000 / 1000 / 500 | 4000 / 1000 |
| Torque | Nm | 3.5 / 15 / 30 | 7 / 30 |
| Distance between centres | mm | 650 | 650 |
| Power supply | V/Hz | 3 x 400 / 50-60 | 3 x 400 / 50-60 |
| Dimensions | mm | 1235 x 530 | 1235 x 530 |
| Weight | kg | 180 | 180 |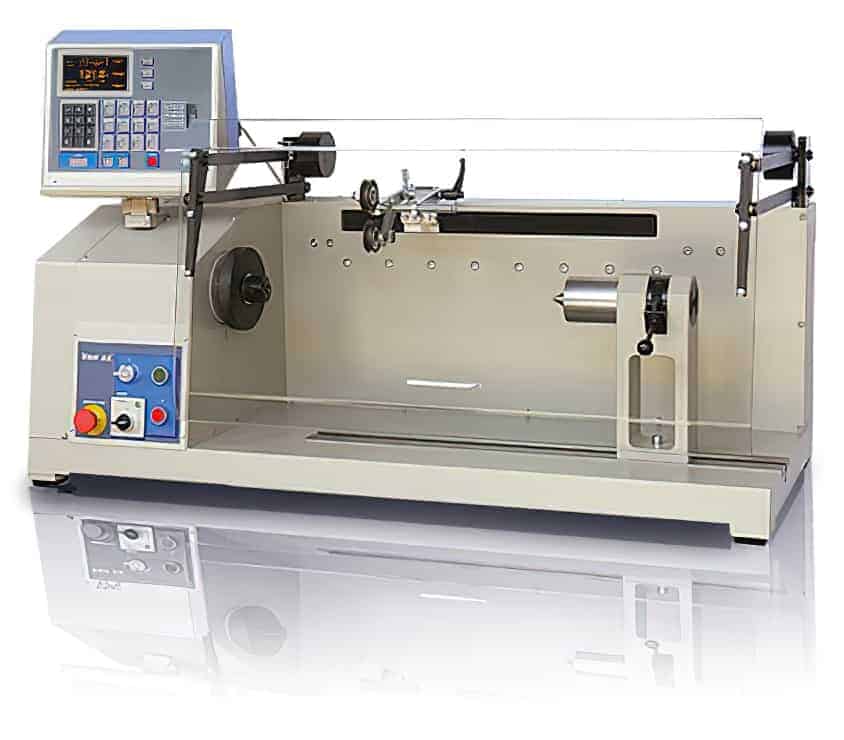 Technical specifications

| Property | Unit | DWM 62 |
| --- | --- | --- |
| Wire diameter | mm | 0.02-5.0 |
| Pitch range | mm/R. | 0.008-40.0 |
| Winding width | mm | 0.1-450.0 |
| Max. winding diameter | mm | 450 |
| Accuracy of spindle stop | R. | 0.01 |
| Turn resolution | R. | 0.01 |
| Speed range | R./min. | 500 / 2000 |
| Torque | Nm | 60 / 20 |
| Distance between centers | mm | 650 |
| Power supply | V/Hz | 3 x 400 / 50-60 |
| Dimensions | mm | 1235 x 530 |
| Weight | kg | 200 |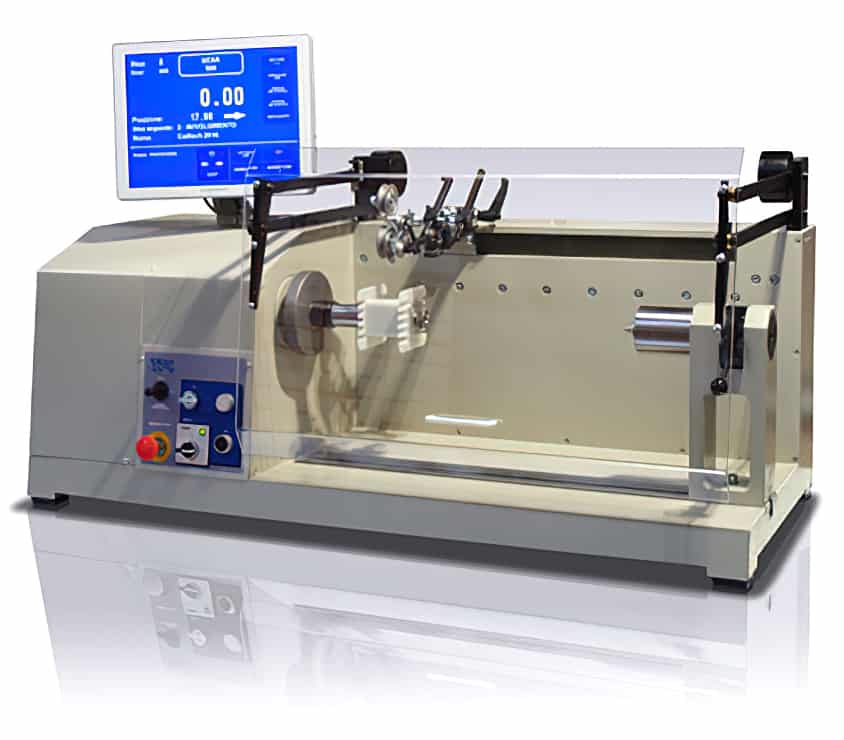 Technical specifications

| Property | Unit | DWM 80 |
| --- | --- | --- |
| Wire diameter | mm | 0.02-5.0 |
| Pitch range | mm/R. | 0.008-40.0 |
| Winding width | mm | 0.1-550.0 |
| Max. winding diameter | mm | 600 |
| Accuracy of spindle stop | R. | 0.01 |
| Turn resolution | R. | 0.01 |
| Speed range | RPM | 750 / 3000 |
| Torque | Nm | 60 / 20 |
| Distance between centers | mm | 550 |
| Power supply | V/Hz | 3 x 400 / 50-60 |
| Dimensions | mm | 1330 x 680 x 1600 |
| Weight | kg | 300 |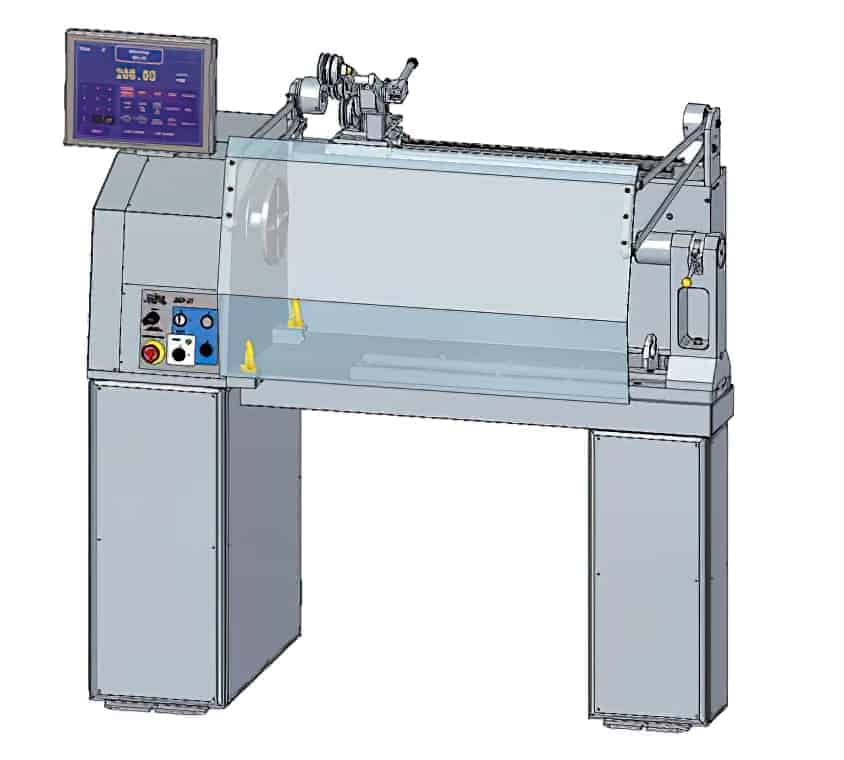 Technical specifications
| Property | Unit | DWM 100 |
| --- | --- | --- |
| Pitch range | mm/R. | 0.008-160.0 |
| Winding width | mm | 400 / 800 / 1000 / 1200 |
| Max. winding diameter | mm | 600 / 800 / 1000 |
| Accuracy of spindle stop | R. | 0.01 |
| Turn resolution | R. | 0.01 |
| Speed range | RPM | 600 / 300 |
| Drehmoment | Nm | 75 / 150 |
| Max. coil weight | kg | 400 |
| Distance between centres | mm | 800 / 1200 / 1400 / 1600 |
| Power supply | V/Hz | 3 x 400 / 50-60 |
| Dimensions | mm | 740 x 1800 / 1400 / 1600 |
| Weight | kg | 600 / 750 / 900 |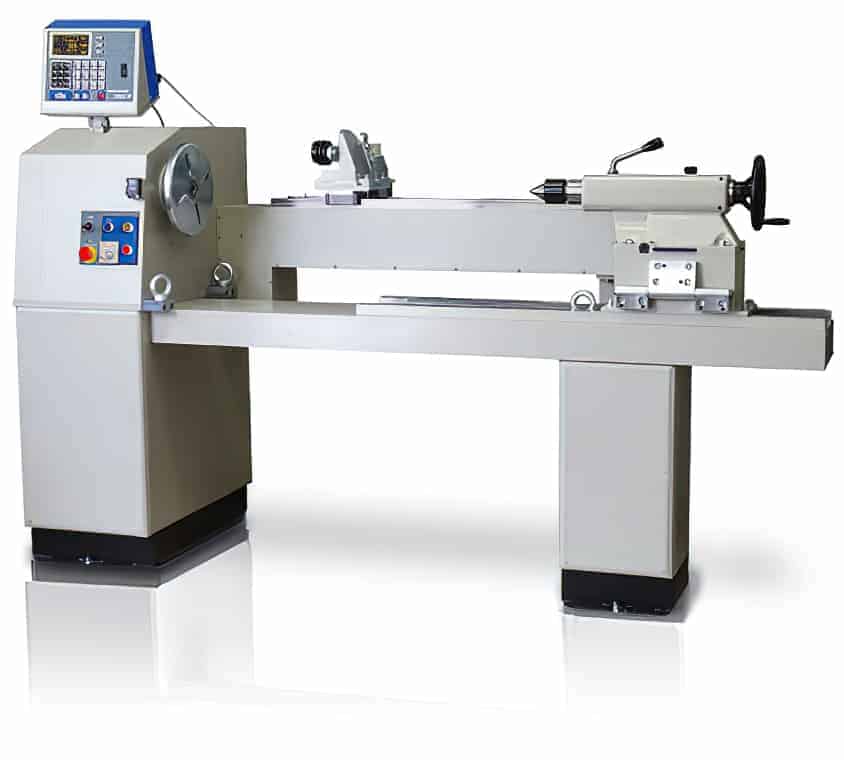 Technical specifications

| Property | Unit | DWM 200 |
| --- | --- | --- |
| Pitch range | mm/R. | 0.008-160.0 |
| Winding width | mm | 400 / 800 / 1000 / 1200 |
| Max. winding diameter | mm | 600 / 800 / 1000 |
| Accuracy of spindle stop | R. | 0.01 |
| Turn resolution | R. | 0.01 |
| Speed range | RPM | 150 / 75 |
| Torque | Nm | 270 / 540 |
| Max. coil weight | kg | 400 |
| Distance between centres | mm | 800 / 1200 / 1400 / 1600 |
| Power supply | V/Hz | 3 x 400 / 50-60 |
| Dimensions | mm | 780 x 1800 / 2300 / 2800 |
| Weight | kg | 700 / 850 / 1000 |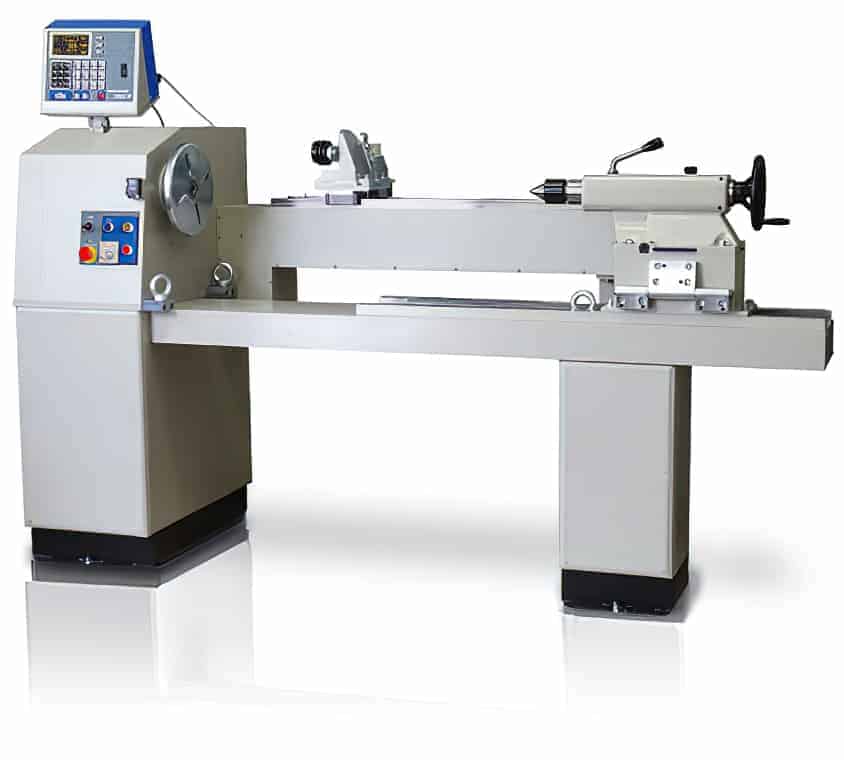 Technical specifications

| Property | Unit | DWM 500 |
| --- | --- | --- |
| Pitch range | mm/R. | 0.008-160.0 |
| Winding width | mm | 800 / 1000 / 1200 |
| Max. winding diameter | mm | 800 / 1000 |
| Accuracy of spindle stop | R. | 0.01 |
| Turn resolution | R. | 0.01 |
| Speed range | RPM | 150 / 75 |
| Torque | Nm | 800 / 1600 |
| Max. coil weight | kg | 1000 |
| Distance between centres | mm | 1200 / 1400 / 1600 |
| Power supply | V/Hz | 3 x 400 / 50-60 |
| Dimensions | mm | 780 x 2350 / 2550 / 2750 |
| Weight | kg | 1100 / 1200 / 1300 |